PGDME is Jointly Certified by
Program Overview:
Jadavpur University – Some Background Information:
Date of Establishment:    24/12/1955
Status of the University:    A 66 years old State Funded University. The University has been recognized by UGC in 1955
Type of University:    Unitary
University Departments:    36
Interdisciplinary Schools:    21
Centres of Study:    40
NIRF India Ranking of Jadavpur University:    4th in the University Category
Program details are also available in Jadavpur University official website. Click here to view. 
The Strategy Academy – Some Background Information:
>>   The Strategy Academy was set up about 15 years ago in January 2008 to act as a catalyst for transforming individuals and organizations to exploit their full potential and assisting them to achieve SUCCESS
>>   The Academy was conceived as a part of an Action Research done by Prof Ranjan Das, Professor of Strategic Management at IIM Calcutta. Prof Das is the current Executive Chairperson of the Academy
>>  The Academy is India's FIRST Academy that deploys a Smart Learning & Transformation Solution [SLTS]. The Complete Transformation Solution. SLTS, registered with Patent Office of India, uses the principles of Convergence and Digitalization and focuses on TOTAL LEARNING PROCESS that comprises [1] faculty-led sessions, [2] extensive scheduled and guided learning activities outside faculty-led sessions and [3] a rigorous continuous and program-end evaluation. Faculty-led 100% LIVE sessions are delivered on One2One basis over 2 Way Interactive Platform [with streaming audio and video feeds] to ANY WHERE in India and the World
>>  More than 50 Indian companies, one University, One MHRD Institute and India's largest industry association have used the resources and capabilities of the Academy, considering the following:

>>  Unique Dual Learning Process that recognizes participant's desire and need to learn on a particular subject area through different sources and in a variety of ways
>>  A variety of Learning & Development Programs in Strategy, Leadership, Innovation, Entrepreneurship and General and Functional Management areas; as a matter of fact, any subject matter [not just business and management topics] can be delivered, since SLTS is content neutral, location neutral, device neutral, platform neutral & scalable.
>>  Network of Faculty
>>  Streaming Video and Audio Platform [including associated infrastructure and support services] – facilitating 100% LIVE and 2 way interactive learning process-   accessible from ANYWHERE and by participant on one2one basis
>>  Special capabilities in Strategy and General Management Consulting
Program Director: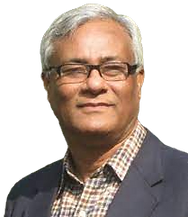 Prof Ranjan Das, PhD [IIM Ahmedabad]
20 Years of industry plus 28 years of teaching @ IIM Calcutta and other business schools in India and overseas, extensive consulting experience
Brief profile of Prof. Ranjan Das
Program for whom:
It is a Open Enrollment Program for Working Executives and Graduates in any discipline from any AICTE/UGC approved institute/university.
Diploma Engineers with 10+2+3 = 15 years of education are also eligible to apply for this program.
This program is Ideal for Groups of Young TALENTED Individuals who are already working in an organization, who need to specialize in one or the other area that PGDME offers as a specialization.
Note: Application for Educational Loan for financing the course fee of the program can be made to any scheduled bank for getting the Educational Loan.
Several Options for Specialization:
A particular specialization will be offered only with a minimum of 12 & maximum of 15 participants
[1]  Industry Specific Specialization (such as Oil & Gas, Steel, Retail, FMCG etc.)
[2]  Strategic Management
[3]  Sales, Customer Service and Distribution
[4]  Business Analytics
[5]  Data Science
[6]  Cyber Security
[7]  Application of Emerging Technologies in Business
[8]  Digital Transformation
Note:
[1] Each Specialization option will be offered in the 3rd semester of PGDME
[2] The first two semesters of PGDME will cover [A] Cross functional areas of management, [B] Strategic Management and [C] Entrepreneurship and developing new business plan
[3] 45% of academic workload – 3 semesters together – can be linked to individual participant's company/ industry and also personal preference.
List of all subjects are mentioned in the "Subjects" section.
Direction of Development:
[1]    Cross-functional Skills in different areas of management – required by participants to understand essence of business and management and how to make functional decisions with cross functional perspectives and skills
[2]    Strategy and Leadership Skills and Acquire an Entrepreneurial Mind – required to analyze the fast changing business challenges, appreciate the importance of strategy and entrepreneurial orientation to achieve success   and offer requisite support to so that the organization can develop and sustain competitive advantage
[3]    Special Focus Area [ONLY applicable for those specializing in an area which is on offer]:  Any area, out of the options offered, and apply the same to address specific challenges faced by companies and industries
Program Benifits:
>>  Eleven months Program comprising 3 semesters; the 3rd semester will be the specialization semester
>>  Internationally benchmarked Content [ Semester 1 &2: 10 subjects covering cross-functional management areas, strategy and entrepreneurship; Semester 3: 5 subjects covering SPECIALIZATION: term papers, individual and group projects, presentation over digital platform, case studies, Action Learning Projects, Comprehensive PG level project]
>>  Working & Learning together and acquire a PG level Diploma
>>  Convenience [as expected by people who are busy and travel extensively] and Affordable Charges.
Program Delivery:
The faculty conducted sessions of PGDME, 4 times a week, will be technology-enabled and  delivered 100% LIVE to the homes of participants OUTSIDE working hours during 8 to 10pm. Recordings of 100% LIVE faculty-led sessions will be available for revision & other purposes. Case method of teaching.
Value Creation at:
[1]    BUSINESS LEVEL: As a part of completing term papers and ONE comprehensive project, achieve the following:
>>  Acquire new generation skills in cross-functional, strategy and one specialization area [ if applicable] so that participants are equipped to  address contemporary business challenges
>>  With skills mentioned in [I], participants will be able to contribute effectively for businesses to develop and sustain  competitive advantage
[2]    ORGANIZATION LEVEL: Develop, Reward and Retain Talent
>>  Identify talent, through this program
>>  Develop talent through upgrading skills of talented officials further
>>  Reward talent for retaining them
[3]   INDIVIDUAL LEVEL:
>>  A Comprehensive Learning Opportunity – Cross Functional, Strategy & Leadership and specialization in one area [if applicable]
>>  Acquire within 11 month [if there is specialization; otherwise, 8 months], while on-the-job & without using any office hour, PG Diploma level Certification from a University with high NIRF Rank [4th in 'University' category during 2021-22]
Engagement Level – An Overview:
>>   720 hours of engagement over 11 months [45 weeks] comprising:

>>  240 hours of faculty conducted 100% LIVE DIGITAL and 2-way interactive sessions [120 sessions each @ 2 hours] OUTSIDE office/ working hours [thrice a week sessions during 8 to 10pm]
>>  480 hours of scheduled and guided learning outside faculty conducted sessions

>>   15 Subjects [5 in special focus area]
>>   15 Action Learning Projects to address business and function specific challenges[5 in special focus area] – All company/industry specific]
>>  15 quizzes [5 in special focus area]
>>  Many Individual case analysis/ discussions and guided/ monitored syndicate room discussions
>>  15 Presentations [5 in special focus area]
>>  15 interactions with industry experts
>>  15 program-end examinations
>>  1 Program end Comprehensive Project [in special focus area]
Some Other Important Details:
>>   Subjects:-

>>  15 Subjects spread over 3 Semesters and covering:

>>   Cross functional areas of management and strategy [7]
>>  Economics, organizational behaviour and quantitative [3]
>>  Special focus area [5]
NOTE: A significant portion of each of the 15 subjects PLUS Program-end Comprehensive Project can be related to one's own area of specialization

>>   Evaluation and grading:- 

>>  Multi-element evaluation [7 elements in each subject] and relative grading

>>   Issue of PGDME Certificate:-

>>   Jointly by Jadavpur University School of Education Technology and The Strategy Academy Centre for Advanced Studies [TSACAS]. Subjects of special focus area will be mentioned in the grade sheet.
Subjects:
SEMESTER 1: Core Business Functions
[1]  Marketing Management
[2]  Analysis of Financial and Cost Performance for Decision Making and Control
[3]  Economics for Managers
[4]  Operations Management
[5]  Managing and Leading
SEMESTER 2: Business Decision, Strategy and Entrepreneurial Orientation
[6]   Financial Management
[7]   Quantitative Techniques for Business Decision Making
[8]   Human Resource Management
[9]   Strategic Management
[10] Entrepreneurship
SEMESTER 3: Specialization areas [A participant has to opt for one of the following seven specialization areas] 
Industry Specific Specialization:- For 5 subjects under industry specific specialization, discussion will be held with the representative of nominating companies before finalizing the list of 5 subjects.
Strategic Management

[1]   Strategic Analysis for Development of Strategy
[2]   Strategies for Turnaround, Consolidation, and Growth
[3]   Merger & Acquisition and Corporate Restructuring
[4]   Platform Business Strategy
[5]   Analytics for Strategic Decision Making

Sales, Customer Service and Distribution

[1]   Sales, Customer Service and Distribution Processes – Core Concepts and Practices
[2]   Personal Selling and Associated Processes and Practices (Including Soft Skills that Sales and Customer Service Officials Need)
[3]   Sales, Customer Service and Distribution – Consumer Goods
[4]   Sales, Customer Service and Distribution – Industrial Products
[5]   Sales, Customer Service and Distribution – Services

Business Analytics

[1]   Customer Analytics
[2]   Operations Analytics
[3]   Supply Chain Analytics
[4]   Financial Analytics
[5]   Analytics for Strategic Decision Making

Data Science 

[1]   Business Analytics (Including Big Data Analytics)
[2]   Data Representation and Visualization, Categorical Data Analysis and Optimization
[3]   Database Management and Data Warehousing
[4]   Artificial Intelligence [AI], Machine Learning [ML] and Deep Learning
[5]   Python, R, Java, and Other Programming Languages

Cyber Security  

[1]   Pillars of Cyber Security
[2]   Cyber Security Business Model
[3]   Essence of Cyber Security
[4]   Types of Cyber Security
[5]   Cyber Guidelines

Application of Emerging Technologies in Business  

[1]   Artificial Intelligence & Machine Learning [AIML]
[2]   Cloud Services
[3]   Robotics Process Automation
[4]   Internet-of-Things [Including Industry 4.0]
[5]   Blockchain

Digital Transformation 

[1]   Concept of Digital Transformation (Scope and Challenges) and Importance of Data Visualization for Digital Transformation
[2]   Big Data in Digital Transformation
[3]   Artificial Intelligence and Machine Learning (AIML) in Digital Transformation
[4]   Blockchain and Cyber Security in Digital Transformation
[5]   Organizational Preparedness and Implementation Challenges in Digital Transformation
Note: Comprehensive Project Work: In addition to 15 subjects, a real-life and application focused COMPREHENSIVE project will be taken up by each participant to apply the concepts learnt and skills acquired in the special focus area covered under semester 3.
Fees, Start Date and Batch Size:
Fees: Rs. 1,50,000/- Plus GST, per participant
Start Date: A couple of batches will start during April 2023 to June 2023
Batch Size: 12 – 15 participants per specialization
Participants' Feedback:
Overall feedback – all batches put together
Contemporariness of CONTENT: 3.51 out of 4 (Excellent)
Application of concepts and frameworks: 3.47 out of 4 (Good)
Quality of DIGITAL infrastructure [when deployed]: 3.46 out of 4 (Good)
Evaluation of faculty: 3.50 out of 4 (Excellent)
Cumulative overall experience of participants: 3.48 out of 4 (Good)
Note: Excellent: 3.5 to 4;   Good: 3 to 3.49;   Average: 2 to 2.99;   Poor: 0 to 1.99
What our participants says…
"Guided learning with faculty presents in all sessions were absolutely wonderful. Self-paced learning with defined deliverables [such as examination, Assignments submission, Term Papers, Presentations etc.] helped us to develop understanding of all subjects. Faculty conducted sessions taking place outside working hours were well organized & well managed. Emphasis on regularity of attendance and engagement level during faculty conducted sessions were encouraged through well-defined marks. Quality of faculty conducted sessions were outstanding. Only due to some of the faculty, the programme became very interesting in spite of having tough content of the subject. General behaviour of TSA officials in one-to-one communication with me was very supportive in case of any need or emergency requirement. Thanks to TSA team for conducting the most wonderful programme successfully."
Badsha Dash
---
"I would like to convey my heartful thanks to Prof. Ranjan Das, who gave valuable suggestions and guidance time to time during the course PGDME. I am especially indebted, and I am also beholden to all our respected faculties for guiding and explaining various subjects and enriching my knowledge on various management studies with their rich experience. Thankful to Mr. Sumit Bhattacharya, Mr. Jaiprakash Halder and Mr. Gaurav Mondal for their full support during the course and helping in all matters whenever it was sought and my heartfelt thanks to The Strategy Academy for providing all the useful study materials, presentations, quizzes, examination Patters both during Class and Exams and Support to enrich my knowledge. Subject: Analysis of financial and cost performance for decision making and control and understanding financial statements was best for making us upgrade to know financial terms, reading financial statements being from Non-Financial Functions. Subject: Economics for Managers was interesting and could upgrade myself. All the faculties taken care of our queries however silly it may be and supported to enrich our knowledge with their vast knowledge and experience. They made me understand mainly Finance and Economics as these were not my related functions beside other subjects. Most of the classes were regularly conduced for stipulated time or more and couple of classes which were rescheduled was with proper intimation after discussion with mutual agreed upon. PGDME Course will help me a lot Personally and in my functional area and to understand our company in a better way and add value to my organization."
Basanta Kumar Patra
---
"I am very happy to share my feedback on the learnings through this PGDME course:- As I came from Science Background it was an opportunity to learn the Management System and Tools. Learning Process on Pricing Strategies & the well explained by the faculty members on Macro and Microeconomics for managers and the Stock Market analysis is very useful. All the faculty members are having very excellent knowledge on their domain and well explained the subject with examples and stories and practicing the case studies. All the Faculty members are conducted sessions and exceeded their support by providing mobile number to contact and get clarifications after completion of online class. The TSA team is very nicely handled all the sessions and recorded the attendance and also the engagement level of each participant is very unique in this course. Finally, I would like to say a big thanks to all the TSA team and the faculty for their support and knowledge sharing through this course."
Gandham Radha Krishna
---
"The program conducted by The Strategy Academy provides a strategic advantage to participants. The program content is very well thought of and pertinent to current business environment. I had completed my MBA 22 years ago, and the program has helped me to upgrade my knowledge and upskilled myself. The program has very experienced faculty from Academic as well as business background. They have lucidly explained the concepts taught through Online classes post office hours. They had shared case studies with live instances from industry providing opportunities to participants to think out of the box to derive their own solutions to business challenges. The content of the program covered multiple facets of Management and assessed the participants through examinations, assignments, term papers and presentations. Though there was a requirement of minimum attendance, the fast paced and engrossing sessions ensured that most participants looked forward to attend the sessions to enrich themselves through the interactions with the esteemed faculty. The manner of conducted the sessions by the TSA officials is commendable. Their approach to meet the requests of participants, whether on one-to-one basis or in group requirements is a lesson in ideal customer service. Kudos to the TSA team for an excellent program conducted with utmost professionalism and dedication. I shall remain ever indebted to the Faculty, TSA team and my Company for providing this opportunity to upskill and upgrade myself. Thanking you once again."
Koushik Paul
---
"All the online classes were conducted through an excellent interactive session between the participants and the faculties. Knowledge sharing by all the participants and the faculties on the today's best industry practices during the classroom session tremendously helped me in out of box thinking on any problem-solving issues. Assignments, Classroom Quiz, Examinations at the completion of the module on each subject helps in the doubt clearing on the key learning areas. Overall class attendance and self-assessment record keeping system was marvelous. The TSA officials support 24×7 on any communications helps us to conduct the courses hassle free in terms of time management."
Kushal Mazumder
Admission Process:
Step 1: Study of Program Outline and make the decision to join
Step 2: Submission of required documents
Step 3: Appear at Perspective and Aptitude Test [PAT]
Step 4: Personal interview with Prof Ranjan Das
Step 5: Issue of Admission Letter
Step 6: Payment of first instalment on due date
Enroll Now: